Move over BB Creams, CC cream is here!
CC creams are crazy popular in South Korea right now.
For those of you wondering...
What is a CC cream? (From Wiki)
CC cream

, also known as Color Control cream, is an improved and refined

blemish balm cream

or

Beauty Balm

created and developed in Korea.

While

BB cream

was manufactured primarily as a skincare product, CC cream was developed to retain all the skincare benefits of

BB cream

with added nourishing ingredients and the additional aim to provide more effective skin coverage.
What are the benefits of a CC cream? (From Wiki)The benefits of CC cream is said to include high SPF rating to ensure protection from damaging UVA and UVB rays. It also treats and covers uneven skin tones more effectively and blends with skin tone better than BB creams that sometimes appear too light on certain skin tones. A lighter texture than that of BB cream also allows for smoother application with a less oily finish, while remaining extremely nourishing to the skin. The end effect is said to be surprisingly natural and flawlessly radiant complexion than that of BB cream.
Here's a list of some CC creams I have my eyes on:
TONY MOLY LUMINOUS PURE AURA CC CREAM
Credit: TONY MOLY
THEFACESHOP FACE IT AURA CC CREAM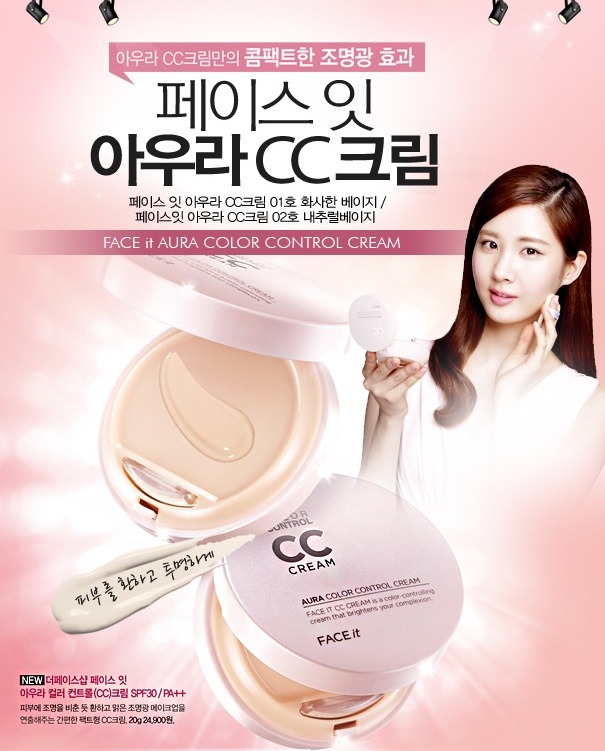 Credit:THEFACESHOP
BANILLA CO. it RADIANT CC CREAM
Credit: BANILLA CO.
NATURE REPUBLIC SUPER ORIGIN CC CREAM
Credit: NATURE REPUBLIC

Has anyone tried CC creams? I'd love to try it!